Bookish and Not-So-Bookish Thoughts is a weekly blogging event hosted by
Bookishly Boisterous
. It allows book bloggers (and non-book bloggers) to write about pretty much anything, bookish or otherwise (i.e. share exciting plans for the weekend, rants on things
they've
encountered during the week, etc.).
*************************************************************************************
1) Well, this is actually the post I started for LAST Thursday...that's how my life has been lately...everything is on Fast Forward, but I would rather be on Rewind...or heck at last at normal speed. Woosh!!
2) I watched Boyhood on iTunes last weekend after my art teacher co-worker kept telling me how good it was. OK - first, it was NOT "knock-my-socks-off" good (for me) ....the concept - of filming the same kid for 12 years - ok, that's cool, but otherwise, the story was just another kid's ordinary life. What also left me with a sour taste in my mouth was the repeated and too-frequent Democratic agenda...seriously people, leave the politics OUT of the movies...especially that stupid neighbor lady who went on and on about Obama. I wanted to puke. And as a kid, I always adored Ethan Hawke...but now after this movie and reading the article where he pretty much says having affairs is ok - I'm no longer much of a fan.
3) Whoa! This has been the worst start to a new year of reading ever in history for me. Seriously, it took be almost a full month to finish All the Light We Cannot See. The beginning was just so chalk full of meaningless details that even though I was still interested in it, I chose other activities instead of reading. I am so happy to finally move on to something else.
4) Last week was Catholic Schools Week here at school (hence the inability to complete a single blog post). A (crazy) week full of fun activities. I am the committee chair for this and while the week was fun, I am beyond happy that it is just about over.
5) We had a 2-hour delay to school last Tuesday. The high school announced it at 6:30am...which is pretty late considering most people are up and getting ready by 5:45am...the school I work at didn't announce it until 6:55am...need I say how that was really not beneficial. No extra sleep or rest considering I was about to head out the door in 5 minutes. Ugh. We need a REAL snow day around here!! Update: still no freakin' snow here while the rest of the country hogs it all!!! And it "snowed" here ALOT on Monday...too bad it was all flurries...looked pretty but didn't get us out of school.
6) As I was running on the treadmill the other night, I came across Dead Poet's Society on some movie channel. Oh...that movie. Makes me want to sit & watch it in it's entirety. Also, makes me sad all over again for Robin Williams. :(
7) It was Boy Scout night on Friday...yahoo...I enjoyed a fabulous pedicure...all by myself. Relaxation time!
8) I recently joined a FB group for buying/selling scrapbook goods...like highly sought after scrapbook goods...I already need to find a 7-step program to quit shopping there. Yikes!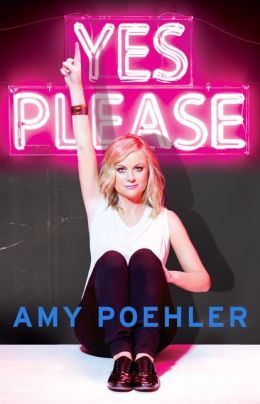 9) I set a "soft" goal to read more non-fiction this year...so I've started by reading Amy Poehler's "Yes Please"...and the laughs are serving me well too.
10) Because work isn't busy enough- this week is National School Counselor Week...I set up a fun BINGO game for the teachers to play throughout the week for prizes and a gift card drawing at the end of the week. I also brought in bagels on Monday, homemade baked goods on Tues, Wed & Thur and on Friday I will get chicken minis from ChickFila. On Tuesday a teacher emailed me and said "Shouldn't WE be bringing you treats?"...haha...I almost fell out of my chair laughing...while that's the truth, most (or all) school counselors know they have to do their own PR and celebrate the profession or the week would pass as any other. This teacher then sent me a tweet from a school counselor where she used to work - her co-workers had decorated her office...love that...doubt it will ever happen where I'm at though. If I didn't tell them it was NSCW, they'd never know.