Bookish and Not-So-Bookish Thoughts is a weekly blogging event hosted by
Bookishly Boisterous
. It allows book bloggers (and non-book bloggers) to write about pretty much anything, bookish or otherwise (i.e. share exciting plans for the weekend, rants on things encountered during the week. **************************************************************************************
1. I've determined that my death will likely involve my being hit by a car. Why? It has almost happened TWICE in the past 30 days!!! Seriously! The first time occurred walking into the gas station in the morning for my diet dr pepper. A gal was in way too much of a hurry for her McDonald's coffee and she came within 6-12 inches of hitting me. Not a great start to my day!
The second occurrence was Halloween night. I was standing ON a driveway as Ethan collected his candy. I turned around to step into the street (just into it - we have no sidewalks) when this complete idiot came FLYING up the street. Even if I wasn't there, he should not have been going that fast ON Halloween night anyway. Unbelievable. If Ethan hadn't been complaining about his feet hurting, I would have walked after the guy (he parked up the street) and given him a piece of my mind. I also really wish Oscar had been with us, he would have REALLY given this guy a piece of his mind....and I would have enjoyed watching.
2. I eat a lot of turkey sandwiches. At least 3-4 a week. It's my "go-to" healthy lunch option. Of course, I do not make these sandwiches, but purchase them at work or at Subway with Ethan. I'm so glad he loves Subway as much as I do. But seriously, I probably need to branch out a bit on my sandwich choices, but I do love a turkey sandwich.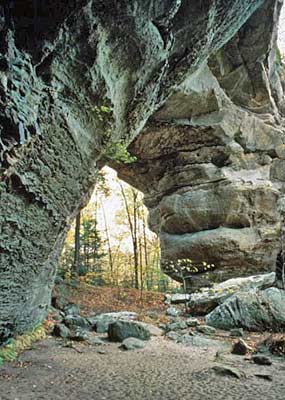 3. We are going camping this weekend and I am SUPER excited. Lots of awesome hikes with beautiful scenery - I'm planning to take a bazillion pictures...like the one above!
4. I finished "Be Frank With Me"....good book with super quirky and sometimes annoying characters. Still a worthy read. I am now reading "Winter Garden" by Kristin Hannah...after reading "The Nightingale" I had to try another by her. Winter Garden is no Nightingale, but it's getting very good here in the last 150 pages or so. Hoping to finish it this weekend and move on to another...book to be determined.
5. I really, really, really, want to read Hamilton. It is 832 pages! That will take me forever! I'm a 350-page kind of gal.
6. I would love to attend the Book Riot Live Convention in NYC this month. Too bad it's going to have to remain a dream for now. *sigh*
7. In regards to podcasts, I've left BookNerd, which ended and won't have any new podcasts anyway, and jumped on board ALL THE BOOKS! by Book Riot. I love this one even more than Book Nerd because it's a weekly podcast about new releases. This will help me learn more about upcoming releases that I maybe would never have considered.