Finally got around to posting this...I really do enjoy this end-of-year recap!!
1. Best Book(s) You Read In 2015?
The Nightingale by Kristin Hannah.
2. Most Disappointing Book?
The Mapmaker's Children by Sarah McCoy...I had higher expectations based on her previous book.
3. Most surprising (in a good way!) book?
The Storied life of AJ Fikry. While it had quite a bit of sadness, there was a good amount of happiness to offset it.
4. Book(s) you recommended to people most in 2015?
Why Not Me? by Mindy Kaling. Because everyone needs to laugh.
5. Best series you discovered in 2015?
I really enjoyed reading Karen White's Tradd Street "series"...all based in Charleston, SC.
6. Favorite new author(s) you discovered in 2015?
I hadn't read anything by Kristin Hannah until The Nightingale. I was so blown away by that book, that I really want/need to read more of her work.
7. Most thrilling, un-put-down-able book in 2015?
The Nightingale - no contest.
8. Book you most anticipated in 2015?
The Mapmaker's Children
9. Favorite cover of a book you read in 2015?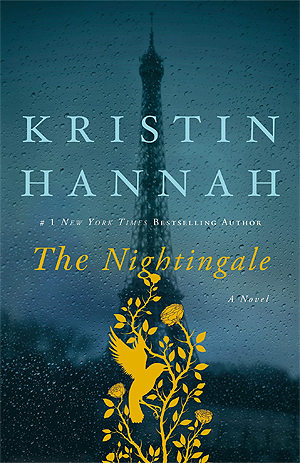 10. Most memorable character in 2015?
Isabelle in The Nightingale. She did things I would never have the courage to do. I was scared for her as I read the book.
11. Most beautifully written book read in 2015?
I'm not sure what constitutes "beautifully written"...but for me again I'm going to have to say The Nightingale. It was so easy to picture every scene the author described, it was as if I was right there watching it happen. To me, that is beautifully written.
12. Book that had the greatest impact on you in 2015?
I don't know that I would necessarily call it "impact" but I was definitely "moved" by The Nightingale...it's probably the book I most vividly recall reading. I don't seem to have much long-term retention for fine details of a book, but this one has stuck with me.
13. Book you can't believe you waited UNTIL 2015 to finally read?
To Kill a Mockingbird. Somehow I managed to avoid it if it was required reading in high school.
14. Favorite passage/quote from a book you read in 2015?
"The truth is, it's hard to get people to like you, but it's even harder to keep people liking you." -
Mindy Kaling
,
Why Not Me?
15. Authors you want to read more of in 2015?
JoJo Moyes...she has a few other books out there I have not yet read. Hopefully I get to them this year.